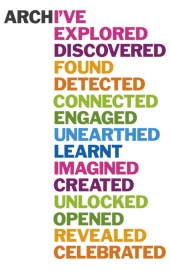 Explore Your Archive is a campaign designed for archives of all kinds throughout the UK and Ireland.  This year the main launch week will run from 18 to 26 November 2017. 
In this section you will find a downloadable toolkit as well as tips to help you create events and promote stories relevant to your collections and communities. The aim of the campaign is to increase public awareness of the essential role of archives in our society, to celebrate our network of collections and emphasise the skills and professionalism of the sector.
The Explore Your Archive campaign, which is coordinated by The National Archives and the Archives and Records Association (UK and Ireland), is now in its fourth year.
Start using the toolkit now
Take a look at the toolkit and start thinking about how you might take part. The toolkit can be used for any event you are planning, but is particularly useful ahead of the annual launch week. When you are ready to develop your stories, you can download all the relevant materials below, including artwork and a template press release.
Download the resources below to find everything you need to take part in Explore Your Archive:
Event Form (XLS, 0.03MB))
Get Involved (PDF, 0.08MB)
Getting Heard (PDF, 0.16MB)
Brand Guidelines (PDF, 2.0MB)
Story Boxes (PDF, 0.10MB)
Explore Your Archive downloadable resources (ZIP, 183MB)
Posters, templates and social media tips (ZIP, 8.40MB)
Archi've Remembered poster PowerPoint template (ZIP, 1.61MB)
Archives and archivists, sign up to let us know you will be participating in the #explorearchives social media activity.
Badges and pencils
We produced a family of badges which included Archi've Explored and Arch'ive Discovered. If you would like to order your free badges, please email ara@archives.org.uk stating whether you would like a mixture of badges or just Archi've Remembered. Usually we will send 100 badges.
For a pack of 100 assorted Explore Your Archive pencils, please email ara@archives.org.uk.
Evaluation
We have undertaken an evaluation of last year's campaign.
Explore Your Archives 2014 Evaluation (PDF, 0.35MB)
Explore Your Archives 2015 Evaluation (PDF, 0.59MB)
Explore Your Archives 2016 Evaluation (PDF, 0.59 MB)
Contact us
For any enquiries about how to use the toolkit, or to find out more, please email us.