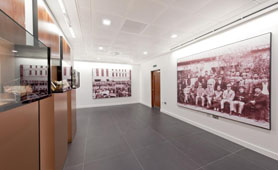 The National Strategy for Business Archives (England and Wales) (2009) was developed to promote, manage and make use of the archival legacy of British business.
Used effectively, archives are a powerful business tool. They are a source of:
new product innovation, corporate culture and brand identity
management information and evidence to protect against litigation, trademark infringement, or assault on reputation
About business archives
Britain was the birthplace of the Industrial Revolution. The historical records of British businesses provide crucial commentary, not only on Britain's economic, political and social development, but also on that of many countries around the world. The business archive collections that survive capture only a fraction of the record of British business history, and are often inaccessible within the companies that own them.
The strategy
This strategy aims to raise the profile of these archives, ensuring that they are used by businesses and researchers alike and that future collections are more representative of the UK's diverse economic activity.
Produced by The National Archives and its partners, the Business Archives Council, Society of Archivists, Museums Libraries and Archives Council, the Welsh Government (through CyMAL), Economic History Society and Association of Business Historians, the strategy prioritises:
raising awareness among businesses of the value of their records and archives, and providing guidance and support from the professional archive community
increasing the number of corporate sector business archives and of business collections in public sector repositories
raising the profile of business records with the public, and throughout the national archival network, while promoting wider usage and exploitation
raising standards in caring for business archives through best practice exemplars, professional training and an improved funding and support infrastructure
Corporate Memory is our guide to managing business archives.
Corporate Memory: A guide to managing business archives (PDF, 7.20Mb)