Discovery: finding archives and their collections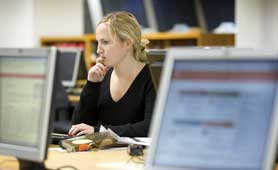 Content from the National Register of Archives (NRA), Directory of Archives (ARCHON), Access to Archives (A2A) and the Manorial Documents Register (MDR) is now available via Discovery, our catalogue. This provides a single point of online access to catalogue and organisational data from across the archive sector.
The next steps will include developing new expert contribution tools for Discovery to improve the process for data owners.
Why are we doing this?
The archives sector has for a long time aimed to offer users an online point of access to the widest possible range of archive catalogues and related finding aids. This would make it as easy as possible to identify available archival sources for any research topic. Advances in technology have now made this feasible and affordable. An integrated catalogue will help users and support archive services to make their collections more readily discoverable, and as well used as possible.
Prior to Discovery, The National Archives provided records information via many different services. These services were managed, updated and supported by different teams in different ways. Many were holding increasing amounts of data, sometimes more then was envisaged when they were originally developed. Some had reached the point where they could no longer be developed adequately to meet changing business and technical needs.
Discovery makes the records information from these services available together in one resource. Now users have one tool to master and upgrades and new developments will benefit all of the datasets integrated in to Discovery. The service is robust, stable and should be future proofed, ensuring that we can continue to provide a good service to users and contributors in the coming years.
How are we doing it?
Discovery has been redesigned in-house to host, search and display the many different databases and datasets held at The National Archives. This provides an integrated system for current and future data management and storage.
The team working on this includes systems and web developers, user experience experts, cataloguing and records experts and other staff from across The National Archives, including the Archives Sector Development team. The project began in 2011 and continues to be overseen by a project board including representatives from the other archives.
Initial research with users and data contributors in 2011-2012 gave us requirements for Discovery, which were subsequently reviewed and developed by our in-house team. The research confirmed that we needed to improve the user experience, and to provide ways for archives to contribute data which reflect advances in technology, cataloguing and archive management systems. We have continued to consult those users and data contributors, as we develop Discovery to ensure that it supports both access to information and data management.
What are the next steps?
Replacing the National Register of Archives, Access to Archives, the ARCHON Directory and the Manorial Documents Register
As we become confident that Discovery is meeting our needs, we will begin to remove access to the individual services. All of the data from these services has been moved in to Discovery, so we are not losing any content - we are simply providing a different means of accessing it.
We have begun this process by removing access to the NRA, A2A and ARCHON. We have decided to take this phased approach because we feel that Discovery delivers the requirements for the data previously displayed within these services, and we are pleased that users have responded positively to their integration into Discovery.
A new beta Manorial Documents Register search tool has been developed and we are currently seeking feedback on this new service. Please do so using the 'Send us your feedback' link on the Discovery homepage (www.smartsurvey.co.uk/s/discovery-nationalarchives) or email discovery@nationalarchives.gsi.gov.uk. The new service and the current Manorial Documents Register will run in parallel whilst this feedback is gathered and analysed.
Expanding content
We are in the early stages of developing new administrative tools for Discovery. Eventually these will enable us to curate data here at The National Archives and enable other archives to contribute data to Discovery. Hundreds of archives already send us records information annually and we want to offer quicker and more convenient ways of doing this for full catalogues, summary accession or collection level content, name authorities and MDR data.
Ambitious as this is, there is a vast amount of archival data managed outside of The National Archives and we want Discovery to make it searchable for users via a single interface. We are planning to talk with all of our data contributors over the next couple of years about the new ways in which they can share their records information with us. We also need participants from across the archives sector to trial different approaches. We know that not every archive has an online catalogue or data that can be shared easily but we will be working hard to ensure that Discovery is an inclusive service that allows all repositories, which are willing to do so, to share information about their collections more widely.
For information about updating information on Discovery please see our contributor page.
For more information, please contact the Collections Knowledge Managers for Finding Archives or Systems.