Cataloguing Grants Programme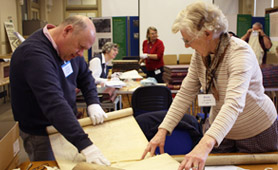 The Cataloguing Grants Programme supports the cataloguing of collections that need external funding to provide access to their content.
We have administered the distribution of just under £2.5 million in seven years to tackle cataloguing backlogs. This has been made possible by the generous support of:
The Pilgrim Trust
The Foyle Foundation
The Wolfson Foundation
The Monument Trust
The Gladys Krieble Delmas Foundation
The Mercers Company Charitable Foundation
The Goldsmiths Company
The J Paul Getty Jnr Charitable Trust
The Andrew W Mellon Foundation
We provide additional funding, together with expert and secretariat support, for the programme. An independent panel makes the final decisions on the allocation of grants.
Five year review of the Cataloguing Grants Programme
Find out about the impact of cataloguing projects supported by the programme, from uncovering new treasures to supporting scholarship and opening up new opportunities for archive services.

National Cataloguing Grants Scheme Five Year Review (PDF, 0.00MB)
2015 scheme
The 2015 round is now open.

Please see the 2015 application form and guidance notes below for reference.
For more information please consult the guidance below and contact the casework manager.

Application Form for 2015 Scheme (DOC, 0.04MB)
Guidance note for applicants (PDF, 0.14MB)
Cataloguing Grants Panel 2014
Georgina Nayler (Pilgrim Trust, Chair)
David Brown (National Archives of Scotland)
Mary Ellis/Sarah Horton (CyMAL: Museums Archives and Libraries Wales)
Heather Forbes (Gloucestershire Archives)
Helen Melody (British Library)
Liz Rees (Tyne and Wear Archives Service)
Chris Webb (Borthwick Institute, University of York)
In attendance:
Nicholas Kingsley (The National Archives, Programme Manager)
James Travers (The National Archives, Programme Secretary)
Successful applicants in 2014
Applications for over £1.8 million in total were received. Although many worthwhile projects could not be funded, we are delighted to announce that the following projects have been successful:
National Railway Museum, 'Anatomy of a traction merger: the archives of GEC Traction' - £43,125
West Yorkshire Archive Service, 'National Coal Board (NCB) and predecessor bodies, West Yorkshire coal mining records 17th century-1990s' - £37,351
Dorset History Centre, 'Granted by Longspee, the records of Poole borough' - £34,867
Worcestershire Archive and Archaeology Service, 'Worcestershire's criminal record - cataloguing the West Mercia Police Authority Archives' - £42,726
East Anglian Film Archive, 'Women film makers from the Institute of Amateur Cinematographers' Collection' - £8,250
Bristol Record Office, 'Exploring empire: the photographic collections of the former British Empire and Commonwealth Museum' - £45,000
Griffith Institute, University of Oxford, 'Tutankhamun's botanist: the Professor Percy Edward Newberry Collection' - £33,721
The National Gallery, 'The Agnew's archive' - £34,995
Cumbria Archive and Local Studies Centre, Whitehaven, 'Opening the jewel box: cataloguing the archives of the Rosehill Theatre, Whitehaven' - £15,627
Bangor University, 'Sugar and slate, the Penrhyn Castle further additional papers' - £46,487
Read case studies in our statistics, studies and reports section.
For more information please contact the casework manager.
This page contains PDF, DOC files. See plug-ins and file formats for help in accessing these file types.