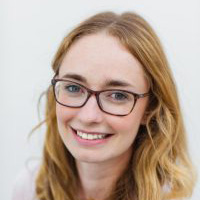 Position: Digital Engagement Manager
Specialism: Modern British, Public history, Social history

Kathryn.Fox@nationalarchives.gov.uk
Katie Fox specialises in late 19th- and 20th-century society and the state's relationships with citizens.
Before joining The National Archives Katie completed a MA in History at Royal Holloway, University of London, where she researched the formation of social housing in London and the material culture of the city's luxury hotels.
Since joining The National Archives in 2014, Katie has developed specialist knowledge of a wide range of modern domestic records including those relating to the rights of the poor to relief from the state. Katie also specialises in Treasury records and is particularly interested in the state's campaign for public contributions to fund the First World War.
In 2018, Katie closely researched The National Archives collections relating to women's suffrage to mark the centenary of the 1918 Representation of the People Act. She has been involved in producing many activities for the centenary including an on site exhibition 'Suffragettes Vs. The State' and various media contributions.
Katie is currently researching the interwar period for a forthcoming exhibition.
Outside of records research Katie oversees the production of digital engagement projects such as video content and our podcast, On the Record. She is interested in the use of digital tools and engagement techniques to further audience inclusion and participation.