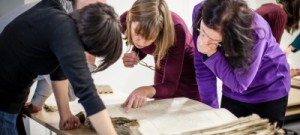 PAST skills and methodology workshops provide students with the skills needed to use the archives and records in their field.
During each session students receive tuition and guidance on a range of archival research skills specific to their research area and undertake practical exercises involving hands-on document work.
Upcoming sessions
To find out more and to register please follow the links below. As these sessions are aimed at taught postgraduate and PhD students, if you are not a postgraduate or doctoral student, please do not book a place until you have contacted the PAST team. Email the PAST team.
Medieval and Early Modern: Tuesday 7 to Wednesday 8 January 2020
Modern Overseas and Defence: Tuesday 14 to Wednesday 15 January 2020
Modern Britain: Tuesday 21 to Wednesday 22 January 2020
Medieval and Early Modern: Tuesday 28 to Wednesday 29 January 2020