Teaching in a tea-room: our Suffragette City education day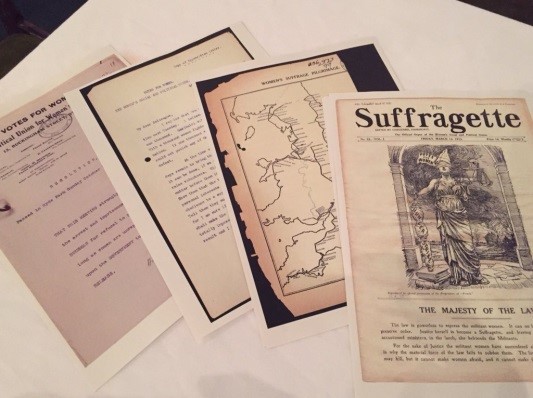 The National Archives Education Service, together with National Trust London and The Naz Legacy Foundation, delivered a programme for Diversity Day encouraging students from deprived communities to visit our great cultural and state institutions for the first time. This year's focus was on the centenary of women's suffrage and was centred around the Suffragette City experience, which recreates the headquarters of the Women's Social and Political Union (WSPU) in London's Piccadilly.
Andrew Payne, Head of Education and Outreach, delivered workshops to students throughout the day focusing on Emmeline Pankhurst's call for 'more civilised ways of waging war' by attacking money and property in pursuit of the vote for women. The workshops provided students with the opportunity to investigate the activities that suffragettes undertook by looking at original documents from The National Archives.
'I always tell students that History is a verb, not a noun!' said Andrew Payne. 'It is an active investigation of the past rather than just a passive narrative about the past. Students were genuinely intrigued at where the documents came from and how we know about suffragette activities. Many would expect the speech from Emmeline Parkhurst to be published in a copy of the Suffragette newspaper, but it is actually recorded by an undercover constable in a report for the Metropolitan Police.'
Students discovered how campaign methods ranged from passive non-cooperation to full-blown militancy. They engaged in a hands-on experience of participating in campaign activities before being arrested and interrogated by police – leaving them with a clear understanding of how historical events can leave a lasting record in the form of documents now held at The National Archives.
Tags: Diversity Day, education, national trust, outreach, suffrage, suffrage 100, suffrage education, suffragette city, suffragettes, vote 100, votes for women