London Festival of Architecture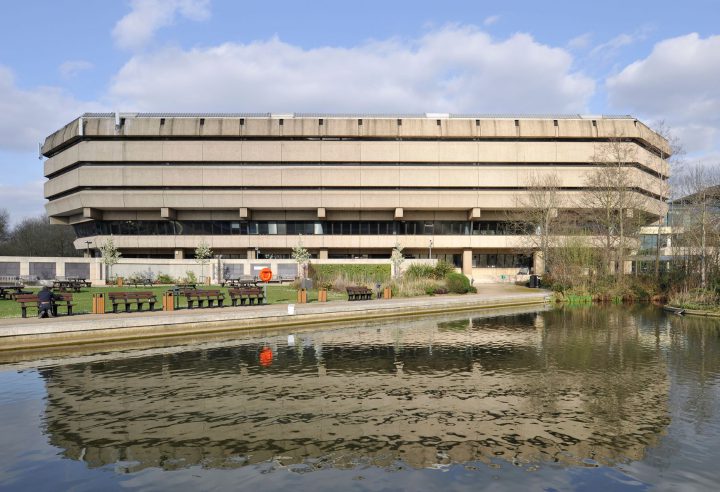 We give a lot of thought to what we hold inside our building – over 1,000 years of documents of global historical importance. This June however, we turn our attention to the building that houses our collections as we celebrate the world's biggest annual architecture festival: the London Festival of Architecture (LFA).
As part of the LFA 2019 programme, we are hosting a series of architecture-focused events, to encourage exploration and discussion of our unique building and public spaces.
Our first building in Kew – known today as Q1 – opened in 1977, a response to the requirement for more space for readers and records at the Public Record Office in Chancery Lane. Designed by John Cecil Clavering for the Property Services Agency, Q1 was built in the brutalist style of architecture popular among contemporary London buildings such as the Royal National Theatre (Sir Denys Lasdun, 1977) and the Hayward Gallery (Hubert Bennett/Jack Whittle, 1968). Q1 is purpose-built for archiving, making use of concrete and extensive air-conditioning units to protect the ever-increasing collection.
On 1 and 2 June, we will be holding tours of the Q1 building, which will include the unique opportunity to visit the rooftop, offering a spectacular vantage point over the structure of Q1, as well as far-reaching views of London. Book now
On 26 June, we'll be hosting Tim Ross, the comedian and design aficionado, as he gives a talk about the campaign to save Sirius, a neglected modernist apartment building in Sydney, from demolition. Tim is best known for his TV and radio work in Australia, and his sell-out live comedy shows, which take place in architecturally significant buildings. Book now
Tags: AOC architecture, brutalist style, design, HemingwayDesign, London Festival of Architecture, Wayne Hemingway