COVID-19 Archives Fund launched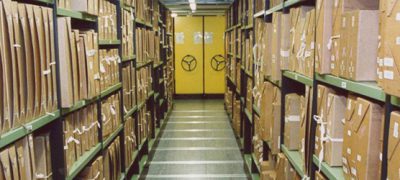 The National Archives has launched a new COVID-19 Archives Fund which will support quick interventions to secure vulnerable physical and born-digital records. The fund has been allocated £500,000 from HM Treasury, with individual applicants across the UK able to apply for a maximum of £50,000.
As a result of the pandemic, many archive-holding businesses, charities, local authorities and arts organisations may struggle to deal with issues related to their collections if they are already dealing with limited resources. This new fund, which is open to both recognised collecting institutions and other archival custodians, will help to ensure that vital records are not lost or dispersed.
Successful applicants will be able to use their grants to determine the best way of safeguarding their vulnerable records and, if necessary, look for an appropriate new home for their documents. As part of this process of protecting records at risk, the grants will offset some of the practical costs of storage, conservation, transport and expertise.
Jeff James, Historical Manuscripts Commissioner said:
'At a time when the archive sector, like many others, is struggling and is trying to deal with new challenges, I am pleased to be able to announce specific funding which will give practical support to protecting records at risk. The fund demonstrates our commitment to supporting the archives sector in acquiring or retaining unique collections, whose loss would create significant gaps in our national memory.'
Applications will be assessed by a panel drawn from across the archives, cultural and heritage sectors. The panel represents a variety of networks who can share information and quickly assess the merits of an application for assistance. The deadline for applications is 15 January 2021 as the funding must be distributed by 31 March 2021.
To find out more about the COVID-19 Archives Fund, please visit the fund's webpages at www.nationalarchives.gov.uk/finding-funding/covid-19-archives-fund or email the Archive Sector Development team at asd@nationalarchives.gov.uk.