Bank of England Archive Accreditation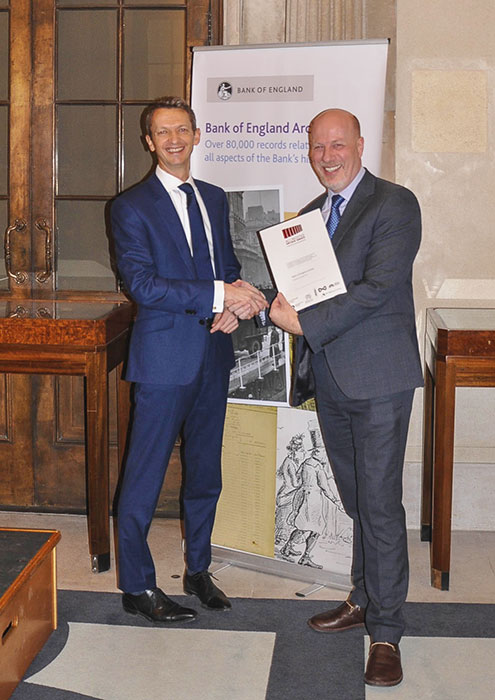 On Friday 2 March, Chief Executive and Keeper of The National Archives, Jeff James, presented the Bank of England archive with their accreditation certificate.
Presenting the certificate, Jeff James said: 'The Accreditation panel were hugely impressed by the archive's achievements, and particularly noted the excellent relationships of the archives team with colleagues across the Bank, and their commitment to staff development and to playing a role in the wider archives sector.'
Bank of England Chief Economist, Andy Haldane, said: 'The Bank's Archives are a jewel in the Old Lady's crown, an endowment for historians, academics and researchers, inside and outside the Bank, for today but especially for tomorrow. Its 90,000 items dating back to 1516 are an historical treasure trove: a history not just of the Bank, but of the City of London, the UK economy and wider society.'
Its collections cover the history of the Bank from its foundation to the present day, and include vital financial records, together with an important architectural record of the succession of famous buildings at Threadneedle Street. The records cover policymaking and international affairs as well as records of the Bank's staff which are popular for genealogy.
The archive is both a specialist archive and a business archive, and has built a high profile within the sector in the last few years.
Archive Service Accreditation is the UK-wide standard for archive services, supported by a partnership of key professional archives bodies. It is a national benchmark and quality standard. It recognises good performance across three important areas: organisational health, collections management and access.
Tags: Andy Haldane, Archive Accreditation, bank of england, business archive, jeff james, Threadneedle Street